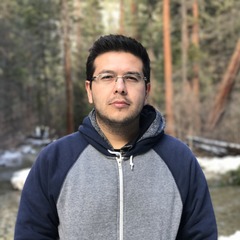 Mauricio Gomez Aguinaga
Engineer, Artist, Tech Advisor and Angel Investor
Tech Advisor

San Francisco, California

Joined on 2019/05/10
Sign up to view full profile
Self introduction
I creative, curious, multidisciplinary and entrepreneurial.

Artist and engineer at my core.

Passionate about start ups as advisor and angel investor.

I have worked in a broad diversity of projects that range from embedded devices, mobile apps, web development to human computer interaction, car diagnostic tools and tools for the 3D animation industry.

This has given me a very broad experience in diverse technologies and people. I am happy to mentor junior engineers and to share my experience with start ups in advisory and investor role.

I am hungry for change and disruptive technologies so I am always happy to participate in new projects. Please don't hesitate to send me an email at mauricio@bukue.com or giving me a call at 323.682.8583 if you think I might be interested.

You can also check out my portfolio at:

www.bukue.com
Ambition
To make the world a better and more just place
Projects
A simple Python wrapper for OBD serial communications.

To use it you would need a OBD II connector with the ELM327 chipset.

2019-5 - 2019-5
Links
What I'm good at
0

Computer Graphics

0

Infrastructure

0

Algorithm

0

Objective-C

0

Swift

0

iOS

0

C++

0

Ruby

0

Python

0

PHP

0

Java

0

Git

0

JavaScript
Education
Doctor of Philosophy - PhD, Computer Engineering

On leave of absence

Masters in Science, Computer Engineering

* Research Assistant at Advanced Graphics Lab.
* DomeGL project at the Arts Lab.
* iPhone Development class TA.
* Advanced Videogame Development class TA

Coursework: iPhone Development, Foundations of Computing, Computer Graphics, Ray Tracing Graphics, Video Game Development, Computer Vision and Advance Image Synthesis

Thesis: https://digitalrepository.unm.edu/cgi/viewcontent.cgi?article=1099&context=ece_etds

Bachelors in Science, Computer Science

Coursework: Software Engineering, Design Patterns, Software Testing, Databases, Web
Development, Assembly, Language, Operative Systems, Compiler Construction, Computer Graphics, Computer Networks, Project Management.

Study abroad semester at the University of New Mexico. Full time, including 3 graduate level classes.
Clubs/volunteering
Meals on Wheels

2019-5 - 2019-5
Languages
English

Professional

Chinese

Conversational

Spanish

Native

Other

Native
Certificates
Cisco Certified Network Associate

2019-5

IBM – DB2 000-730

2019-5

Maya Character Rigging and Animation

2019-5

Maya Dynamics

2019-5

Maya Introduction

2019-5

Object Oriented Modeling on Rational RT011

2019-5

Sun Certified Java Programmer

2019-5

XSI 101

2019-5

XSI 201

2019-5
Publications
Recommendations
No recommendations