Leading Engineers for Ed Tech Wanted!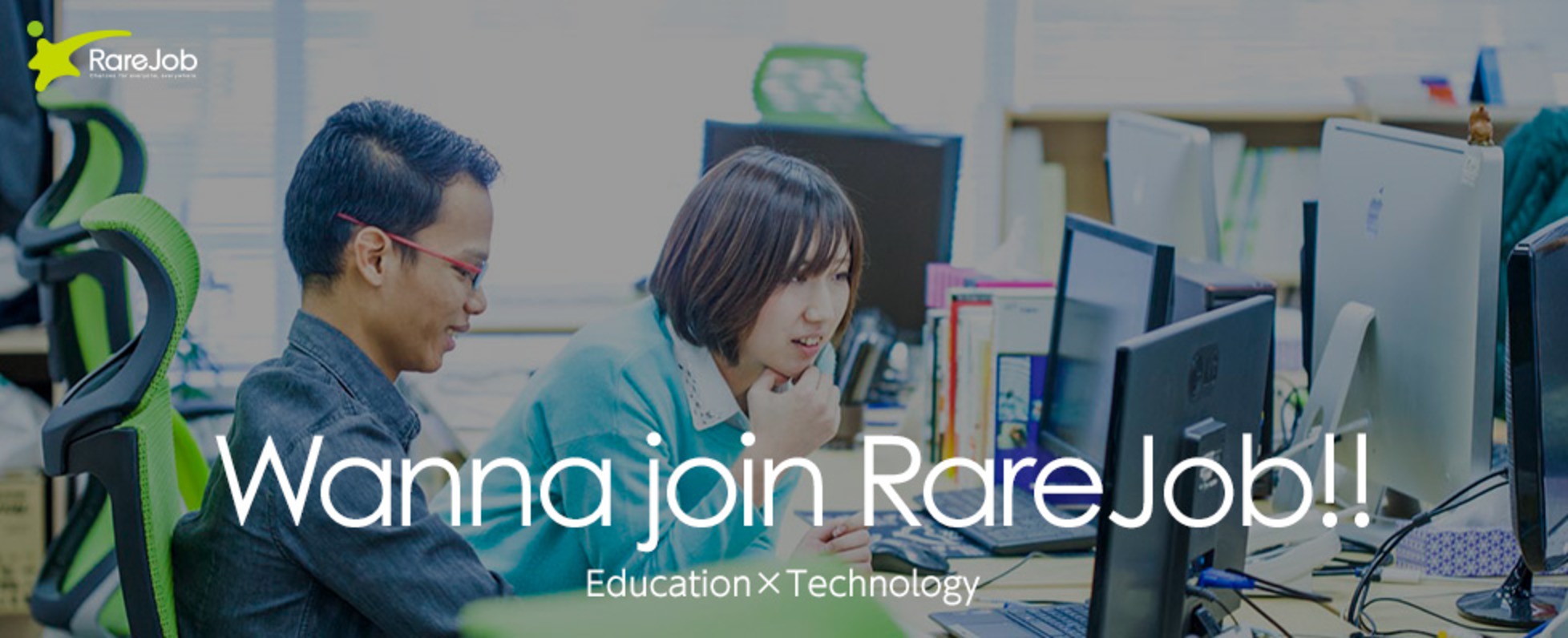 Executive officer in charge of Service Development Department and IT Infrastructure Department.Matsuyama joined RareJob after working for companies such as Yahoo and Rakuten.He has been managing multicultural teams that consist of 20 members in Japan and 20 in the Philippines.

he is good at manufacturing from the viewpoint of overall service. Making full use of the full stack skills that can be launched by a single person, he joined Rare Job in 2015 and he is in charge of all of the service development in the new business for Brazil market.
RareJob, as a listed venture business in education industry, has its service Mission,
"Encourage 10 million Japanese people to speak fluent English."
With "RareJob English," one of the leading online English services, as the core service, RareJob has been developed largely for the future education. These are a part of what we have done so far;
▼Start business for schools with the aim of a new method of English learning in schools using internet
▼Demonstration test using AI with the cooperation between NEC and RareJob English
▼Distribute the ways to improve English skills steadily through "RareJob English Lab,"
▼Tie-up with Mitsui & Co., Ltd. to set up the infrastructure with online English for English education
▼Tie-up with Z-kai for co-service-development to prepare for university entrance exams
We have seen a recent worldwide expansion of online learning space. And one of the concerns we all have about online learning is "how to keep studying."
To solve this concern, we have been working on constructing a platform to help users keep studying and improve their English skill not too much depending on their individual motivation.
We believe that the key to acquiring English skill lies in a solution of the multiplication of "Education," "Technology," and "Global," which traditional English service industry could never achieve
We would like to increase the number of Japanese people who can globally work across the national borders and language barriers both because there are more and more companies that expand their business in foreign countries, there are more and more tourists coming to Japan, and children start learning English at school at the earlier stage than before, and also because we have had difficulties in acquiring English skills, too. Our own experiences as an English learner actually motivate to develop and provide services that solve people's concerns about English learning.
To provide coherent UX, a department in RareJob consists of core members for our services such as engineers, designers, producers, learning counselors.
In weekly meeting on Monday morning, anyone can propose ideas. Sympathy for the ideas brings members together and they work together as a team on the realization of the ideas.
We also review our rules and processes regularly so that our operation goes smoothly without unnecessary process and that members of the team agree with the processes.
We've been developing our products with high quality, more scalability, and efficiency to improve our customers' English skills. We are looking for engineers as a Project Sub-leader to engage in;

Leading development for RareJob English product and managing the system
 -Support planning by technological and functional point of view
 -Create specification
 -Systematization
 -Development and task management
Leading cross-border development with oversea engineers in between Japan and Philippines

More specific work examples:
-Develop "Shunkan (instant) English" series, iOS apps for English learners
-Develop a system to measure English speaking skill by using Web RTC
-Develop new UX based dashboard to improve English learners' learning opportunity
-Develop matching function based on data analysis
▼Development Environment
-Major Language: PHP5.5+ / Node.js
-OS: Windows/ Mac/ Linux (Cent OS6.5)
-DB: MySQL5.5+
-Major Libraries: JQuery / CSS3
-Frameworks: Yii Framework / Laravel
-IDE: PHPStorm/ Netbeans/ Eclipse/ Vim/ Sublime Text, etc.
-Others: Redmine/ GitLab 7.3.3/ SVN/ Git
**With regard to development tools, each engineer is to select tools by her/his own
Basic info
Looking for
Web engineer
Job type
Mid-career
Special features
Use foreign languages / Business trips abroad / Workplace abroad
Company info
Founder
加藤智久
Founded on
October, 2007
Headcount
124 members
Industries
IT (Internet/Mobile) / Human Resources / Nursing Care / Education / Research
Recommendations (41)
View all
Recommend
There are no recommendations yet.
Having more recommendations will help this job posting appear in the Company ranking.
Recommendations (41)
View all
Recommend
There are no recommendations yet.
Having more recommendations will help this job posting appear in the Company ranking.
東京都渋谷区神宮前6-27-8 京セラ原宿ビル2F